Welcome to the Boardman Mitsubishi Tire Service web portal. You'll find everything you need to get your tires serviced or replaced here. Drivers tend to overlook their tires until something goes wrong. However, you should perform maintenance routinely to get the most from your tires. Whether you want routine tire maintenance or have a more serious tire-related issue, we can help. Give us a call at (888) 833-6450 or click the button below to schedule an appointment at our tire service center!
How Often Should You Service Your Tires?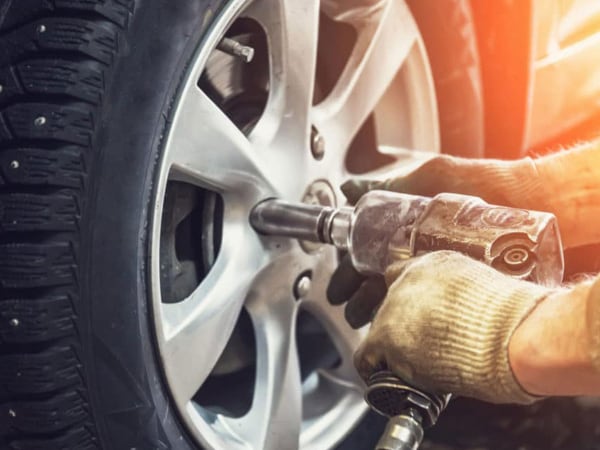 As the only vehicle parts in contact with the road, your tires play an integral safety role. Tires provide traction under various road and weather conditions. You rely on them to steer and bring your car to a safe stop in everyday and emergency situations. Servicing your tires involves several different tasks, starting with tire inspections. 
Tire Inspections
We recommend you have your tires inspected during every oil change . Depending on your make and model, that interval falls between 3,000-10,000 miles. Our service center technicians can quickly perform a tire inspection while changing your oil. If an issue is detected, we can fix the problem right away. In addition, if your issue requires a replacement tire, we have an expansive inventory of tires ready to install immediately.
You can and should inspect your tires yourself. We recommend checking your tires every time you refuel your car. You can look for worn or uneven tread wear, under or over-inflated tires, and any scarring or damage. Sometimes, you can't tell if you have the appropriate air pressure, so we suggest you keep a tire pressure gauge in your glove box or center console. They cost less than $10 and can quickly let you know if you need air. If you check your air pressure at a gas station and have low pressure, you have an air pump handy.
Tire Rotations
Rotating your tires helps prolong their life and improve safety. Mitsubishi tires experience different load and operating conditions on the front and rear axles. For example, the tires on a front-wheel-drive vehicle provide the steering, braking, and acceleration, while the rear tires only provide traction and braking. On a rear-wheel-drive car, the front tires provide steering and braking while the rear axle must accelerate and brake. As a result of this rough load, your tires wear unevenly. Rotating your tires helps spread this wear out uniformly over time, extending the life of your tires and saving you money. 
Tire Replacement
Even with proper rotation and maintenance, tires eventually wear out. When you need to replace your tires, our parts center has the inventory to find an exact replacement. However, some drivers may want a different type of tire. For instance, you might prefer an all-season tire to handle the wintry Ohio weather instead of a sport tire designed for more temperate conditions. If so, we can recommend several Mitsubishi-certified tires for this or any use.
Tire Mounting, Balancing, and Wheel Alignments
These three services go hand in hand. Mounting a new tire on a wheel requires balancing to help minimize uneven wear and ensure your vehicle drives safely. We balance your tire by attaching small weights to the wheel rim. These weights reduce irregular tire wear by helping to eliminate any rotational wobbles. Technically, you don't have to balance your new tire, but if you don't, expect to replace it much sooner. Balancing your tires costs $15-$25 per tire. Replacing your tire can cost between $150-$300.
Wheel alignments are as crucial for vehicle safety and tire wear reduction as balancing. Mitsubishi engineered your wheels to sit precisely within your steering and suspension system for optimal performance. Unfortunately, wheels come out of alignment over time or from a single jarring incident, such as striking a curb, hitting a pothole, or getting in a fender bender. When this occurs, it compromises your steering and, ultimately, your control.
We recommend you have your wheels aligned whenever you put new tires on. The most common symptom of misaligned wheels is a drift to either side when driving straight ahead. You might also experience loose steering while cornering or vibrations and unusual sounds. Of course, if you experience any of these symptoms, our technicians can help.
Why Service Your Vehicle with Boardman Mitsubishi?
For over 20 years, Boardman Mitsubishi has proudly served the Boardman, Ohio, area, providing world-class sales, service, and support to all our clients. Our service center uses the latest tools and equipment to diagnose and repair all your automotive needs. In addition, we provide continuous training for all our technicians, so they remain updated on the latest parts and repair practices. 
Bringing your Mitsubishi to us ensures you have a factory-certified mechanic with years of training and experience identifying your problem. We know what to look for and how to fix it, no matter your issue. And we only use genuine original equipment manufacturer (OEM) parts for all our maintenance and repairs. We use OEM parts because we know they fit right and work as Mitsubishi planned. So, when you leave our service center, you know your car is running the way the manufacturer intended when it first rolled off the assembly line.
Automotive Services Provided
In addition to tire service, Boardman Mitsubishi offers a full array of automotive maintenance and repair services. 
Brake Inspections
Have our technicians inspect your brakes on your next visit to ensure you and your passengers are safe. Our brake inspection  includes your pads, rotors, discs, and drums. We'll also check your master cylinder, brake fluid level, brake lines, calipers, and brake pedal. 
Battery Service
We can quickly test your battery for proper charge and discharge. It takes seconds, and we can replace it in minutes if there's a problem. Don't wait until you're stranded to replace a failing battery.
Get a Tire Service in Boardman, Ohio, Today
Whether you need to replace all four tires or simply want to rotate them, our team at Boardman Mitsubishi can help. We've streamlined the process with our online service scheduler , making it easy and convenient to get you the necessary maintenance or repairs. However, you can always stop by our Canfield Road service center at any time to receive the care and attention you deserve.