Even if today's automotive safety features are amazing, the brake system remains the most important part of safe driving. Keep your brakes reliable and save money with annual inspections and maintenance. If your brakes are screeching or grinding, or your vehicle vibrates more than usual while stopping, we strongly recommend getting the problem fixed with a convenient visit to Boardman Mitsubishi. Take a quick look at everything you need to know about brake repair to save money and ease your mind. Give us a call at (888) 833-6450 with any immediate questions you have, or to schedule an appointment!
Types of Brake Repair Service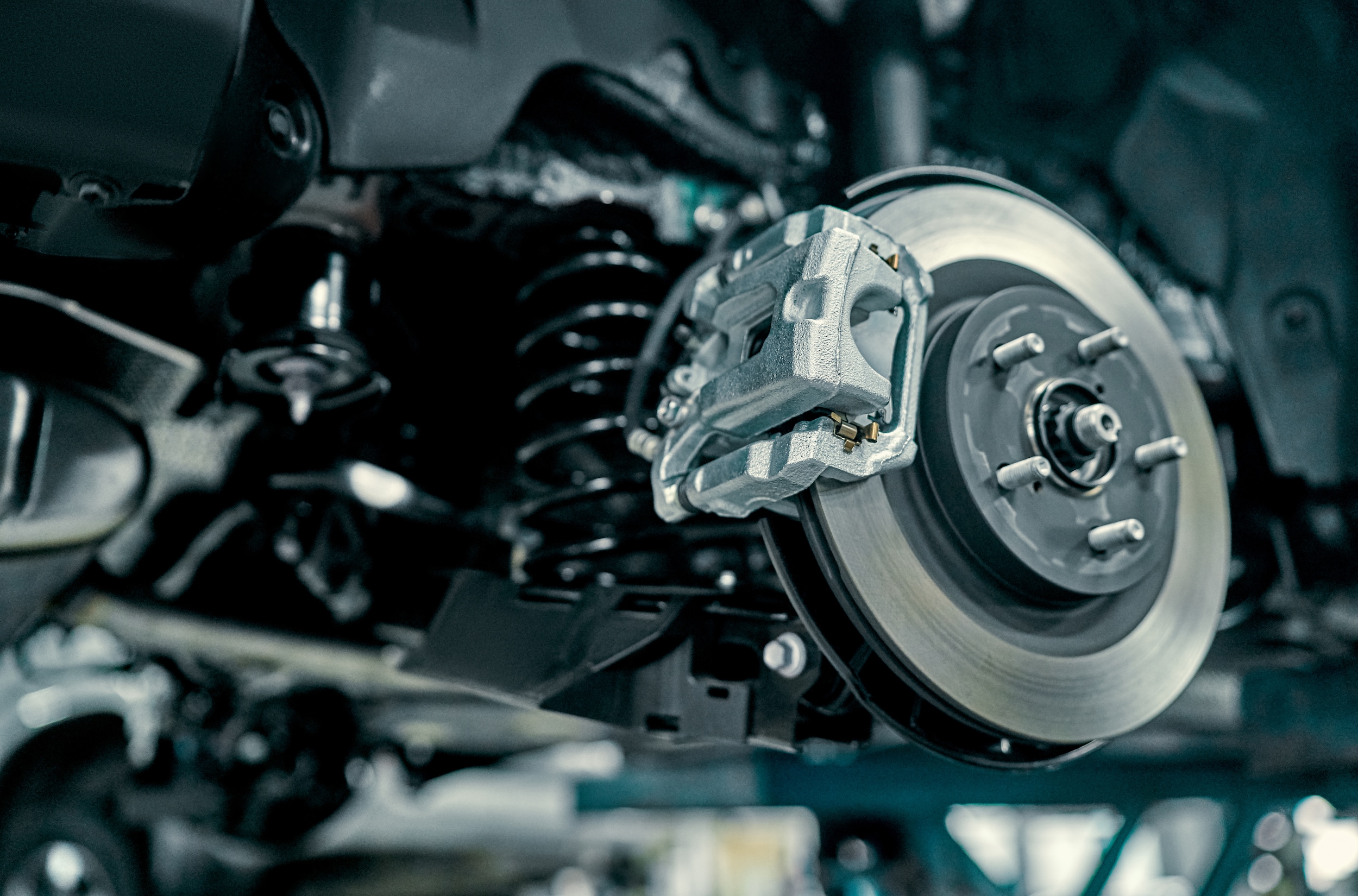 Let's quickly describe some of the brake repairs and services we provide around the Pennsylvania-Ohio border.
General Brake Inspection
A thorough brake inspection should include all aspects because the brakes are the most critical safety system on a vehicle. The first step is a complete visual evaluation of the whole brake system. This involves examining the front and rear lining thickness, the quality of the brake lines, hoses, calipers, and wheel cylinders, and the appearance and condition of the brake fluid.
We can also help diagnose issues around brake pedal feel or why your brake and ABS warning lights might be turning on. No matter the problem, any brake repair recommendations will be provided after the examination is finished in a no-pressure environment.
Brake Pad Inspection and Replacement
Some brake pads could wear out before others, depending on your driving lifestyle. We recommend replacing both front brake pads or both rear brake pads at the least. For instance, if one brake pad needs replacing on the back rear wheel, you should replace both rear brake pads. That being said, our team doesn't pressure you into getting a complete replacement of all four pads and can explain the different options.
Anti-Lock Braking Inspection or Repair
While people usually remember to look after a more recent car's brakes, they might forget about the anti-lock braking system. When you see the ABS dash light at any point while driving, there could be a problem that necessitates further investigation. To read the diagnostic issue code, you'll need to put a scan tool into the vehicle's diagnostic port. One of the professional scanners we use can diagnose any ABS issue in seconds.
It's important not to leave ABS issues alone. For instance, if the ABS occasionally activates when you aren't trying to stop, the sudden speed of your wheels can put a heavy strain on them. Also, anti-lock brakes work by disengaging the regular brakes temporarily. If the ABS isn't properly working when trying to stop, you may compromise your ability to stop in an emergency.
Brake Fluid Checks and Replacements
Brakes use hydraulic pressure from a special fluid that goes into the brake reservoir and lines. When the brake pedal is pressed, the hydraulic pressure in the lines causes the pads to pinch the wheel rotors, forcing the wheels to stop. If you have old brake fluid or a fluid leak, your car won't be able to apply proper force to the rotors when you stop. You could end up with air bubbles in your lines, which is dangerous and requires the fluid to be replaced.
Master Cylinder and Other Component Replacements
The master cylinder is like the heart of the entire braking system. Many vehicles need their master cylinder checked or replaced after enough years, and our team can quickly diagnose whether a performance problem is related to master cylinder age or damage. Thanks to our convenient
parts department
, getting a new manufacturer-recommended master cylinder is just as simple as getting new brake pads.
How Do Boardman Mitsubishi Brake Inspections Work?
During our diagnostic check-up, we will initially test your vehicle for unusual sounds or other noticeable effects when applying the brakes. Squeaky noises can be caused by parts around the brakes that are loose. Don't assume it's always the brake pads, or you might replace them prematurely. For instance, sometimes squeaky stopping means that you need to resurface the rotors.
If the expert determines that the brake system needs to be repaired, we'll go over the options with you. Even if a total brake system replacement is needed, our service financing plans will help you get back on the road.
What's Included In Our Brake Service?
We make it easy to get a lifetime limited warranty to maintain your Mistubishi's brake health. We'll inspect the master cylinder and brake lines, resurface the rotors or rear drums if needed, and repack the front wheel bearings. We also briefly test the vehicle on the road before we call the job done. With a qualified expert working on your vehicle, you can rest assured that you'll have no issues stopping in the future.
How Often Should You Get Your Brakes Replaced?
On the average vehicle, braking pads or shoes can last anywhere from 30,000 to 40,000 miles depending on your vehicle, temperature, brake parts, and driving behaviors. Brake fluid has a lifespan of two to five years, as long as there are no leaks, but driving can be unpredictable.
To take good care of a high-quality vehicle like a Mitsubishi, you might see recommendations to replace brakes every 10,000 to 12,000 miles or once a year, whichever comes first. Check your owner's manual for an exact brake-inspection schedule.
When you see any of these signs your brakes are not working properly, it's time to book a service appointment:
• Squeaking or squealing when stopping, especially at moderate to low speeds.
• Grinding or other severe noises when stopping.
• Excessive cabin vibration when applying the brake pedal.
• Longer or harder braking than average to reach a complete stop.
• Brake pads that are less than a quarter-inch in thickness.
• Brake or ABS warning dash lights coming on, even intermittently.
The unfortunate truth about the auto repair industry is that many independent businesses use beginners, and even experienced technicians might not necessarily be familiar with your make and model. Trust your brake repairs, replacements, and more to our Youngstown dealership to avoid any risk of expensive mistakes or suboptimal work. Boardman Mitsubishi isn't just a place to buy a new or pre-owned vehicle. We have a long history of customer satisfaction from our well-staffed service department, so book a visit or call us at (888) 833-6450 with questions anytime.