When you have a craving for pizza, you have plenty of options in Youngstown, Ohio. Whether you prefer a traditional pizza with green peppers or a unique pie with outside-the-box flavors, there's a pizza place for you in this area of Northeast Ohio. Here are five of the best pizza places in Youngstown, Ohio.
Belleria Pizza & Italian Restaurant
From humble beginnings, Belleria Pizza & Italian Restaurant has become one of the best-known pizza spots in Northeast Ohio. It opened on Albert Street as a small carry-out pizza shop in 1953. The shop quickly outgrew the space, and since then, Belleria Pizza has expanded to 16 locations in Mahoning and Trumbull counties and two locations in the Columbus area.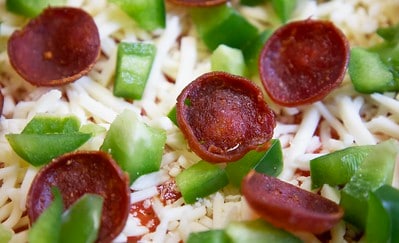 The Belleria Pizza menu features traditional, white, or old-fashioned pizza with red and green peppers. Specialty pizzas combine traditional flavors with unique toppings. Try the omelette pizza, which comes with eggs, bacon, sausage, cheddar, and mozzarella, or the cheeseburger pizza with Thousand Island dressing, ground beef, tomatoes, pickles, and Monterey Jack cheese. Other items on the menu include pasta, calzones, and pepperoni rolls. Belleria Pizza offers delivery and carry-out options.
Locations: You can find the Youngstown-area locations on the Belleria Pizza website.
Hours: Vary by location; check the website for up-to-date information.
The Elmton
Located in nearby Struthers, Ohio, The Elmton first opened as a bar in 1945, and owners John and Dorothy Walters later added a 16-inch pizza to the menu. Today, you'll enjoy The Elmton's trademark "Real Pizza" made exactly the same way it was back then. You can also order 8- or 12-inch pizzas or pizza by the slice.
Except for The Elmton's white pizzas, they make every pizza with green peppers. You can create your own pizza with a range of toppings, including sausage, bacon, pepperoni, broccoli, olives, onions, and mushrooms. Other items on The Elmton menu include soups, salads, appetizers, and sandwiches. The restaurant also serves broasted chicken, made with less fat and carbohydrates. The spacious dining room seats 145 people with a full bar, or you can order your pizza for carry-out and delivery.
Location: 584 Fifth St., Struthers.
Hours: 11:30 a.m. to 9:30 p.m. Tuesday through Friday and noon to 9:30 p.m. Saturday; closed Sunday and Monday.
Inner Circle Pizza
Another longtime staple in the Youngstown area, Inner Circle Pizza opened in Poland, Ohio, in 1972. The restaurant specializes in homemade pizza, calzones, and strombolis, each made from family recipes using fresh ingredients. Inner Circle Pizza offers an indoor dining area with a full bar. Or enjoy your pizza on the restaurant's covered patio or sundeck on a warm Ohio afternoon or evening.
Every pizza on the Inner Circle menu starts with fresh dough and the choice of original red sauce, Brier Hill sauce, or white sauce made with garlic oil, spices, and cheese. You can create your own pizza or choose from one of the restaurant's specialty pies. Favorites include the Spinacoli, which comes topped with spinach, broccoli, and tomatoes smothered in cheese and spices, as well as the veggie, barbecue chicken, and chicken bacon ranch pizza. Inner Circle Pizza also serves wings with various sauces and hot and cold sandwiches made with premium meats and cheeses.
Location: 1816 Boardman Poland Road, Poland.
Hours: 11:30 a.m. to 9 p.m. Tuesday through Thursday; 11:30 a.m. to 10 p.m. Friday; 11:30 a.m. to 9 p.m. Saturday; 11:30 a.m. to 8 p.m. Sunday; closed on Monday.
Wedgewood Pizza
You won't find anything but pizza on the menu at Wedgewood Pizza. Since 1967, this establishment has focused solely on serving made-from-scratch pies using the freshest ingredients available. Every morning, the restaurant prepares its fresh dough for the day, and every pizza is made-to-order with a special sauce and homemade sausage.
Wedgewood Pizza serves 8-, 12-, and 16-inch pies. Its lengthy list of toppings includes peppers, anchovies, mushrooms, pineapple, potato, ham, sausage, salami, pepperoni, clams, crab meat, and Philly steak. The restaurant also offers specialty pizzas. Try the Fernando pizza, which comes topped with red roasted sweet peppers, olives, sausage, hot peppers, mozzarella cheese, and bacon. Other favorites include the sandwich pizza with your choice of five toppings or the house special with tomato sauce, green peppers, Italian sausage, and Romano cheese. Wedgewood Pizza offers carry-out and delivery options.
Locations: Wedgewood Pizza has three locations in Austintown, Boardman, and Warren.
Hours: Check the website for the hours of each location.
Westgate Pizza Company
When a standard pizza just won't cut it, head to Westgate Pizza Company. This longtime favorite lays claim to Youngstown's only party pizza and refers to its signature pies as a "buffet in a box." Westgate Pizza makes its substantial pies using fresh dough made with a flour blend, water, oil, yeast, and salt. All pizzas come topped with its famous Westgate sauce and freshly grated in-house cheese.
Signature pizzas come in 12- or 24-slice variations with your choice of flavor selections. If you can't decide what to get, the super sampler option allows you to try six different pizzas on one sheet, including pepperoni, sausage, BBQ chicken, garlic chicken, Brier Hill, and white with banana peppers. The restaurant also prepares a variety of other specialty pizzas, such as buffalo chicken ranch and a three-meat combo. Other menu items include wings, salad, pizza rolls, and hot sandwiches. Pickup and delivery are available at both the Austintown and Youngstown locations.
Location: 4401 Mahoning Ave., Austintown and 8590 Glenwood Ave., Youngstown.
Hours: 10 a.m. to 8 p.m. Sunday through Thursday and 10 a.m. to 9 p.m. Friday and Saturday in Austintown; 10:30 a.m. to 9 p.m. Sunday through Thursday and 10:30 a.m. to 10 p.m. Friday and Saturday in Youngstown.
Now you know more about five top pizza places in the Youngstown, Ohio, area. Which one do you plan to try for your next pizza night? If you're a Youngstown local, did we miss one of your favorite pizza spots in the area? Contact us at Boardman Mitsubishi and let us know. We'll make sure to add your suggestion to our list.
We enjoy highlighting the restaurants and other businesses that make the Youngstown area a great place to live and work. You can check out some of our other local recommendations by reading our past blog posts. For more information about Boardman Mitsubishi and our commitment to the Youngstown community, give us a call at (888) 891-9049 or head to our website to learn more.


Image Credits: Pepperoni and green pepper pizza by MattCC716 is licensed with CC BY-SA 2.0